Industrial Roaster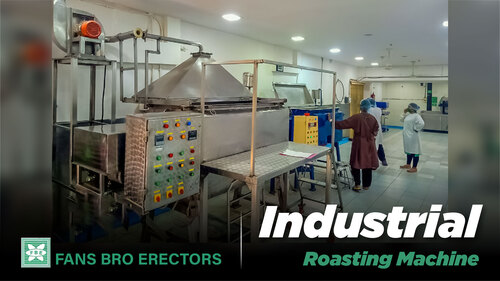 Industrial Roaster
Price And Quantity
Unit/Units

150000.00 - 500000.00 INR
Product Description
Industrial Roaster We are pleased to introduce you, this versatile machine designed for Mixing, blending and Roasting any type of dry powders granules. The machine is most suitable for Chemical, Pharmaceutical, Foods Processing, SpicesIndustries. For more information please refer to the enclosed chart for more details,
Material used for Construction- The industrial roaster machines are offered with option of customization as requested by the buyers. Owing to this option, the machines can be made in full stainless steel or contact parts fabricated in Stainless steel and non-contact parts fabricated in mild steel with enamel or epoxy paints.
Construction- The industrial roaster oven is made in a U-shape with sturdy body and a top cover. The bottom discharge valve is located centrally and the longitudinal shaft is mounted centrally too with spiral ribbons mounted too. Spiral ribbons are designed specifically to offer best blending results. Owing to the three dimensional action of the machine, the by product is evenly blended and all particles come equally in contact with the other material.
Advantages-

Homogenous mixing of the material with even consistency due to minimum gap between shell and ribbons.
Improved hygienic condition of material with low hand contamination and end to dusting of material as all contact parts are made from Stainless Steel.
Reduced labour cost
Increased production
Purpose -This machine is designed specifically for blending or roasting any type of dry granular type powder.
Capacity: The Machine is available in Capacities ranging from 25 to 4000 Ltrs.

The machine can be used for preparation of Snacks foods such as IDLE / UPMA / GULABJAMUN Premix including heating of oil, and deep frying of components such as Mustered, Ground nuts, Mirchi, Kadipatta in oil. In these products the moisture evaporation is more and drip age of condensed water in product is not acceptable.
Roasting various types of products like Onion, Coriander, Coconut, Spices, for removing moisture and increasing shell life of Powder, Chemicals.
Additional Facilities:

Heating System: The heating is achieved either by Electrically operated oil immersed heaters, with thermic fluid oil as medium, or with LPG gas heating arrangement. The heating temperature is controlled through digital temperature controller.
Add small amount of Powders Colours, Concentrates etc.
Add small amount of Liquids Essences etc. with Spraying System.
Break lumps and agglomerates formed during Mixing, while adding Liquids by Lump cutter system.
Reciprocating Timer with hooter system
Some of the Application Industries
Abrasives:Agrochemicals:Animal feed:Cereals
Coatings:Chemicals:Detergents:
Fertilizers:Fire Exting. - Powders:Fish foods:Flours
Fungicide treatments:Gulab jamun pre mix:Metal powders:Milk powders
Pet foods:Pesticides:Pickles:Pharmaceuticals
Polymer chips:Powders:Salts:Snacks
Spices:Soya beans:Soups Premix:Starch
Sugar:Thermosetting Powders:Talcum Powders:Vitamins
Achievements: Till now we had more than 250 installations and serving various Industries all over INDIA and also Exported our machines to various Countries in Asia and Gulf. We had recently supplied and commissioned the FOUR Nos. complete blending system from raw material conveying to Pre packing stage for prickly heat Powder for M/s. Manisha Pharmoplast P.L. at their plants in Gujrat and Haridwar, having batch size of 3900 Ltrs. 1500 KGS., 2 Nos. 1200 Ltrs. capacity Roaster in complete Stainless Steel construction to Ms. MTR FOODS, Banglore and exported the 1000 Kg. batch capacity Roaster Machine to Huston USA. We herewith also like to inform you that our Blender machine is approved by M/s. American Soyabean Association ASA, Asia sub Continent, Delhi regional office for Soya bean processing.
Trade Information
4 Week

Contact us for information regarding our sample policy
as per requirement

All India