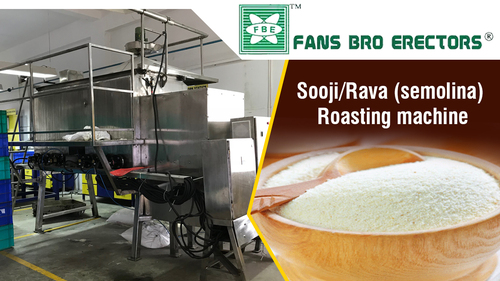 Sooji Roaster
Price And Quantity
Unit/Units

150000.00 - 500000.00 INR
Product Description
The Roasting Machine is a Multipurpose machine, used for roasting, reduction of Moisture contents from various types of Powders, Flours, Seeds, Granules, Pulses, Semi paste, & Gravy type products.
keeping the heating system "Off" the same machine can be used as a blender for blending, mixing various components, and by adding a separate spraying system the machine can also be used for adding small quantum of Powders for adding Colours, Concentrates, and Liquids for adding Essences, flavours, proteins etc.
The Roaster machine can be used for roasting "Semolina" (Sooji, Rava), various types of Flours like "BESAN" "Wheat", etc. and for preparation of Premix, Snacks foods such as UPMA / GULABJAMUN / DHOKLA / IDLI premix etc.
The Roasting machine can be used for heating of sweet oil, and deep frying of components such as Dhaniya, Mustered, Ground nuts, Mirchi, Kadipatta etc. for preparation of CHIWDA / Bhadang type dry snack foods.
The Roaster machine can also be used in oil extraction industry for roasting Coconut shreadings, in Masala industry for Cooking Onion-garlic in paste form for preparation of Onion Masala, and in starch industry for manufacturing of Modified Starch & Dextrin.
Normally in Roaster Machine the heating is achieved through the Jacket filled with special purpose heating oil, which is heated through Electrically operated oil immersed heaters. The heating temperature is controlled through digital temperature controller. The heating temperature can be achieved up to 250 Deg. C.
For higher batch capacity machines, the heating can be achieved through Thermic fluid heaters using low grade coal or other fuels such as Paddy husk, Fire wood, Bagasse, agricultural / Bio waste etc.
The Roaster machines are available with options as per customer requirements, having Full Stainless Steel construction (GMP MODEL), OR with contact parts in Stainless Steel and Non contact parts in Mild Steel with Enamel / Epoxy paint (STANDARD MODEL).
The Roaster machines are available in sizes ranging from 50 Ltrs. To 5000 Ltrs., higher capacity machines can also be fabricated as per customer requirements.
Product Details:
| | |
| --- | --- |
| Capacity | 10 -2000 Kg |
| Design | Customized |
| Heating Temperature | 80 - 250 degree celsius |
| MOC | SS, MS |
| Machine Type | Semi-Automatic |
| Voltage | 440 V/ 240 V |